Horst Seehofer, the Minister for the Interior in Merkel's coalition government is threatening to bring the government down. Seehofer and other hardliners in government are engaged in a stand-off with Merkel. They want the German government to close its borders against immigrants who are already registered in other European countries and Merkel is refusing on the grounds that it would put more unfair pressure on Southern European countries (where the immigrants are often first registered) and break the "open-borders agreement within the EU. Seehofer is making a play straight out of the Orban (Hungarian) and Polish playbook.
It's no surprise to know that Seehofer is a former Bavarian minister and that this populist surge in Germany is also behind the new law in Bavaria insisting that all government buildings should display the Christian cross as a visible sign (see States Of Mind: Dracula seen in Bavaria").
"The Bavarian conservatives are closing ranks with Europe's populists," said Andrea Römmele, a professor at the Hertie School of Governance in Berlin. "This is serious. It's pure populism."
But there is bit more to it. "The far-right Alternative for Germany (known by its German initials AfD) has been expanding its support in Bavaria, threatening the stronghold of Mr. Seehofer's Christian Social Union, which now risks losing its absolute majority for only the second time in half a century. "He and his party have responded by veering sharply to the right: The proposal to turn back migrants at the border is reminiscent of one AfD made late last year."
Merkel has 2 weeks in which to resolve the issue.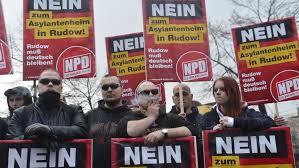 Populist resurgence in Germany is threatening to bring down the Merkel coalition.