Article 7 of the Lisbon Treaty is unambiguous: "All EU countries must respect the values of the EU." Hungary, under the ultra-authoritarian Victor Orban, is simply a disgrace to Europe and the EU and, if the EU stands for anything - which, more than ever, it must - it should be expelled. Hungary is an authoritarian electocracy, not a democracy. The list of (not just undemocratic, but) anti-democratic laws, decrees and behaviours make the country's attempts to pretend it's a democracy an insult to the intelligence of ordinary Europeans. And staunchly Catholic Poland is up there with it. It's also interesting to note how the Dutch ultra-fraud and narcissistic leader of the "Forum for Democracy" (FvD) party, Thierry Baudet likes to go to Hungary to make speeches (ed: what is it with populists, fascism and male hysterics??),
As this article in the Guardian by Owen Jones makes clear....."The country's parliament has not just passed a law making claims for asylum almost impossible: the very act of helping migrants and refugees has been criminalised. Furthermore, a 25% tax has been slapped on funding for NGOs that "support immigration": in practice, that means having anything positive to say about immigration.'
It gets even worse. State media supports the government blindly, trashes the opposition, and is buying up all the independent media outlets. Goebbels would have been proud of their efforts. The pro-democracy Open Society Foundation (founded by George Soros, himself a Hungarian by birth) has been forced out of Budapest because of the hostile operating environment.
Jones continues "And yet – as Michael Ignatieff, president of the Central European University – puts it, this is happening with the "collusion and compliance" of the EU. Orbán's Fidesz party remains a member of the European People's party – the grouping of the EU's centre-right parties – which, when it met in Warsaw earlier this month, failed to even reprimand Hungary. The EPP leader, Manfred Weber – an ally of Angela Merkel – has even leapt to Orbans's defence.
The article concludes..."But Hungary, along with increasingly authoritarian Poland, is making an utter mockery of the EU's stated commitment to democracy and human rights....... Yes, the EU is buffeted by multiple crises, from Brexit to the assumption of power of a Eurosceptic Italian government. But its acceptance of its own member states succumbing to authoritarianism may prove its greatest existential threat of all.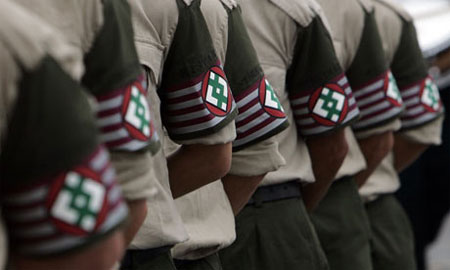 Hungary's behaviour makes it impossible for it to remain in the EU.