Hey Dotard ! How's the swamp draining in Washington going? When leaders (and I include the royal first couple of Jared and Ivanka in this) start to flaunt their anti-democratic and socially divisive instincts for personal gain ("and screw the little people"), it is time to take note: this is very serious. Filings show that Jared Kushner and Ivanka Trump received income of more than $82 million last year - while they also served full-time in jobs at the White House. According to ethics experts, their various sources of income raise serious questions about potential conflicts of interest.
This article, from the Washington Post includes the following excerpt....
"In a wide-ranging interview in late May with the Real Deal, a New York City real estate publication, Kushner's father derided ethics watchdogs as "jerks" who "can't get a real job" and suggested that the criticism may discourage rich and successful people from taking government positions.
"I look at what my kids have sacrificed to go into government, with the only intent of doing good for this country and for the world, and to help people," Charles Kushner told the Real Deal. "And what they have sacrificed, and the daily barrage of negative media, and the attacks they get, and they had a perfect, beautiful life and they still have a very good life, but they sacrificed a lot."
Sure they have. They've sacrificed real democratic values too.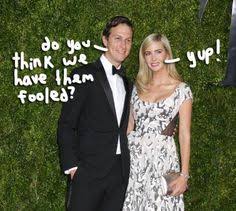 Kushner and Trump - serious ethical issues around conflicts of interest from their income of $82 million while serving in White House.