This article from the Washington Post suggests that the forces opposing Erdogan look as if they can mount a serious challenge in the upcoming election (on June 24) - if not to take the presidency, at least to become a majority in the parliament. Voter fatigue - with Erdogan - is one reason. Another is the economy which, after years of imprudent spending, is teetering on the brink. If he succeeds again he will assume greatly expanded executive presidential powers.
Erdogan is a canny political operator - he has been in power for 15 years - and he has preserved his rule by mobilising an effective brand of religious nationalism. If he is defeated it will be through a strategic alliance of parties from across the political spectrum including leftists, religious minorities, secularists and even pious Muslims. Most who oppose Erdogan accuse him of championing policies and tactics that polarise and isolate Turkey - their message is "Enough is enough".
Napoleon suffered a strategic defeat in Europe through an unlikely - and wide-ranging - alliance that formed against him. In other words, it was impossible for him to do anything about it. If he hadn't lost at Waterloo, it would have been the next battle. On the face of it, Erdogan is facing a similar situation with the forces ranged against him and his options appear to be fewer and fewer. However, he still has some cards to play. Opponents claim he will likely resort to foul-play in the elections. "We feel that, in order to get 10 per cent of the recorded vote, we actually need to get 15 per cent," Mehmet Serif Camci, an HDP leader in Diyarbakir, told the Financial Times.
But the more likely issue - and his critics acknowledge it - is that Erdogan is still full of fight - and that if he loses majority support the election he would likely hold power by becoming more authoritarian. He's unlikely to go quietly.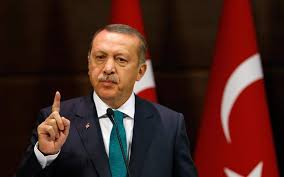 In power for 15 years... and wants more. He now faces a stronger opposition.