An increasingly isolated and ignored US made a shrill announcement yesterday. Well, guess who's got something to hide... and to fear? Nikki Haley, the laughably incompetent bigot and bully, Trump acolyte and all-round ignoramus who is the US ambassador to the UN said, ""For too long the human rights council has been a protector of human rights abusers and a cesspool of political bias." She was supported by ass-licker, wind-bag and balloon-head US Secretary of State, Mike "Pompous Idiot" Pompeo. They must be right because they're American, right... and separating immigrant children from their parents and putting them in cages at the border is the sort of thing that, well........ the Islamic State might do ? Well, of course, and now the US joins that elite group, those paragons of Human Rights - Iran, Eritrea and North Korea - as the only countries that refuse to participate in the Council's deliberations. Another huge victory for Trump's America First agenda (not).
As the New York Times wrote, "The withdrawal (from the Human Rights Council) comes as the Trump administration faces condemnation by rights groups and governments worldwide for its decision to separate children from their families at the border. On Monday, Zeid Ra'ad al-Hussein, the United Nations High Commissioner for human rights, called for an immediate end to the practice, describing such a tactic as inflicting "abuse on children" and "unconscionable."
Predictably, former Republican diplomat (warmonger, liar and blind supporter of Israel) - Elliot Abrams - has said it's the right decision. But everything Elliot Abrams says is right, is sure to be wrong. He's a one-trick pony and has two convictions for unlawfully withholding information from Congress during the Iran-Contra investigation in 1991. And even more predictably, Israeli Prime Minister Netanyahu (he and his wife both under investigation for fraud) also tweeted his delight claiming that the UN is a biased, dishonest organisation. If ever proof were needed....
If these countries - the US and Israel - want to know why the UN seems to pick on Israel for human rights abuses, the answer is very clear. Israel holds itself out as a democracy, living by democratic principles. That is the lie. Israel has become a militarised security-state - is happy to make that situation permanent - and almost every aspect of (social) and criminal justice in Israel is trumped by "security" issues. Serious, systemic and unresolved human rights abuses have been occuring for decades. For instance a private security briefing for judges often occurs before trials so that judges can make "the right decision" regardless of the actual constitutional and legal position (States of Mind will be referring to this in the near future).
The fact is, Israel throws out human rights when it suits it (see also States of Mind article about Israeli proposals to ban journalists from filming any activity of Israeli policing or military interventions against citizens). This is not about repressing violent radicals: it's about criminalising dissent and debate. Some democracy. The second issue - and it's no accident that the border disgrace with children is now happening in the US - is that Israeli policies and actions are disproportionately influential with idiot American politicians (Trump's proposal for a wall between the US and Mexico is a perfect example of this "Me Too" syndrome).
Fifty years after Israel occupied the West Bank and Gaza Strip, it controls these areas through repression, institutionalized discrimination, and systematic abuses of the Palestinian population's rights, Human Rights Watch said. "At least five categories of major violations of international human rights law and humanitarian law characterize the occupation: unlawful killings; forced displacement; abusive detention; the closure of the Gaza Strip and other unjustified restrictions on movement; and the development of settlements, along with the accompanying discriminatory policies that disadvantage Palestinians."
"Whether it's a child imprisoned by a military court or shot unjustifiably, or a house demolished for lack of an elusive permit, or checkpoints where only settlers are allowed to pass, few Palestinians have escaped serious rights abuses during this 50-year occupation," said Saran Leah, Middle East director at Human Rights Watch. "Israel today maintains an entrenched system of institutionalized discrimination against Palestinians in the occupied territory – repression that extends far beyond any security rationale."
"All this administration seems to care about when it comes to the council is defending Israel," said John Sifton, an advocacy director at Human Rights Watch, a nonprofit organization. "The Trump administration's withdrawal is a sad reflection of its one-dimensional human rights policy: defending Israeli abuses from criticism takes precedence above all else," Kenneth Roth, the executive director of Human Rights Watch, said. Why would anyone believe the Israelis or the US on this matter?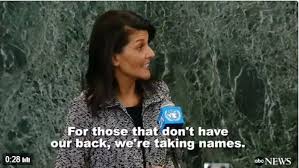 US ambassador to UN, Nikki Haley winning hearts and minds as only she can.....(where do they find them???)