In a sign of the frustration surging into everyday life with a broken democracy in America, the owner of a small restaurant in Virginia (a mainly Trump voter state) asked a party including the fantasist and Christian-right liar, Sarah Huckabee Saunders to leave. As we might have expected, the event has created a furore. The fact is, it's starting to take-off as a form of protest and as the article makes clear, others from the Trump administration have been similarly "shunned". Not enough, though. And where is Kellyanne Conway when you want her to walk into a restaurant?
As this article in the Washington Post by another right-wing but Trump-hating nut job, Jennifer Rubin, makes clear...... "White House press secretary Sarah Huckabee Sanders — whose lies are piling up at a furious rate and whose defense of the child-separation policy prompted a reporter to exclaim, "Come on, Sarah, you're a parent" — was reportedly asked to leave a restaurant in Virginia on Friday because she works for President Trump. In a tweet, she explained that "I was told by the owner of Red Hen in Lexington, VA to leave because I work for @POTUS and I politely left." She then couldn't help lying again: "I always do my best to treat people, including those I disagree with, respectfully and will continue to do so." Anyone who has seen her sneer, insult and condescend to the press knows that's not the case."
The article continues...."This episode follows one on Tuesday in which Homeland Security Secretary Kirstjen Nielsen was heckled at a Mexican restaurant, a culinary choice as jarring as Melania Trump's jacket given the administration's deliberate cruelty exhibited toward Hispanic children and their families. The loud protesters who gathered prompted her to leave. In addition, anti-immigrant zealot Stephen Miller, who pushed as hard as anyone for snatching kids from their parents, was dining in a different Mexican restaurant last Sunday when, according to the New York Post, a protester called out, "Hey look guys, whoever thought we'd be in a restaurant with a real-life fascist begging [for] money for new cages?"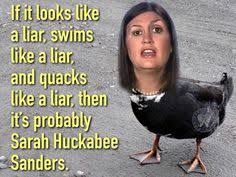 Professional liar for Tantrum Trump: Sarah Huckabee Sanders..