Honestly, the bullshit that is spouted in the US these says. First Brennan, former CIA director and thug-around-town, disses the newly minted "smart, sane and not-orange" president as unfit to serve. Then Trump tweets that Brennan isn't a true patriot. Then Brennan calls Trump a buffoon. Trump responded to that by calling Brennan a "lying leprechaun" - and a "total lowlife." Indeed, things got so bad that Brennan tweeted that Trump had "paranoia", accused him of "constant misrepresentation of the facts", and described him as a "charlatan" (which had Trump reaching for his dictionary... "What's a Sharletten?")
Following the firing of senior FBI official Andrew McCabe, Brennan tweeted to Trump, "When the full extent of your venality, moral turpitude, and political corruption becomes known, you will take your rightful place as a disgraced demagogue in the dustbin of history. You may scapegoat Andy McCabe, but will not destroy America... America will triumph over you." And maybe that really was a step too far since Trump seems to find triumphing over America pretty easy so far.
So what's a principled president like Trump to do in these circumstances ? Well, Trump, famous for his cool reserve and long periods of reflection invoked his power as inbred tyrant-emperor to revoke Brennan's old-age bus pass. Laughable. At least I laughed. Next, it got even better. The blind Trump-haters have been accusing Trump of dissing "an American hero" and failing to recognise Brennan's massive contribution to all things good and American...blah blah blah. Just weird.
Let's get this out of the way. Trump is a fuck-wit moron and scum-bag. Now let's move on. So is Brennan. As one of the comments on the New York Times article put it... - (and States of Mind couldn't say it better) ... ahem.."Trump is a dangerous, lying, fascistic buffoon. But the lionization of John Brennan is downright Orwellian."

"In 2014, the CIA Inspector General found that the agency, with Brennan at its helm, hacked into the computers of the Senate Intelligence Committee, which at the time was investigating the CIA's detention and interrogation program. Before the IG report was published, Brennan had publicly denied the hacking. In other words, he lied. (see NYT 7/21/14: "Inquiry by C.I.A. Affirms It Spied on Senate Panel")

At the time, many observers, including the digital opinions editor for the Washington Post, argued that Brennan should be fired for his mendacity about the Senate hacking. (See Washington Post 7/31/14: "Obama should fire John Brennan")

But this was not the first time Brennan publicly lied about a consequential government matter. CIA's own documents show that Brennan failed to tell the truth when he said in 2011 that there had been no civilian deaths in the previous year from the U.S. drone strike program, which he directed at the time. (See The Bureau of Investigative Journalism 11/4/13: "Secret US Documents Show Brennan's 'No Civilian Drone Deaths' Claim Was False")". The guy is an effing liar.

Trump is an abomination, but our democracy is in even bigger trouble if we become a nation of amnesiacs who make heroes out of people who have abused the public trust just because they oppose the President."
Amen. Brennan was born in North Bergen, New Jersey attended the Immaculate Heart of Mary Elementary School and graduated from Saint Joseph of the Palisades High School in West New York, New Jersey. In other words, judging by the US Catholic church's recent record for child abuse - and the excuse that it was mere "wrestling and horse-play" -- he escaped as an Irish Catholic authoritarian bully, a law-breaker and anti-democrat who showed no respect for democracy or the truth when he was the head of the anti-democratic US Central Intelligence Agency.
And let's face it. Since he was fired, why would Brennan need a security clearance? Answer: to make a ridiculously good living out of giving wildly exaggerated, poor advice to know-nothing organisations who revere the confrontational thuggery of CIA methods and their fixation with talking up the "threat to US national security" (yawn)... Senator Rand Paul (another complete fuck-wit) accused Brennan of "monetizing his security clearance" and "making millions of dollars divulging secrets to the mainstream media with his attacks" on the president.
If you can, I recommend reading some of the comments on the article link below.
Moral of the story? Trump and Brennan deserve each other. And this story has legs...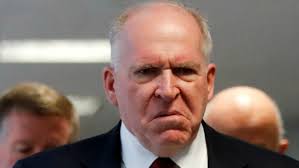 Brennan does his Harrison Ford "angry" impression. But would you buy a second hand drone from this man?