In late April, Mohamed Salah entered legendary status in Britain, scoring 32 goals for Liverpool FC to break the English Premier League's single-season scoring record. In doing so, he edged out soccer royalty, Cristiano Ronaldo, who scored 31 goals during the 2007-2008 season for Manchester United.
Salah is about to step onto the world stage as, for the first time in 28 years, Egypt has qualified for the World Cup. He was badly injured in a disgusting foul (cynically executed by Real Madrid captain Segio Ramos) during the recent UEFA Champions League final in Kiev and had to leave the field after just 30 minutes. At the time he was thought to be doubtful for the World Cup finals and there was an outbreak of national mourning in Egypt. Once he had left the pitch in Kiev, the dynamic of the match changed to give Real Madrid the advantage.
From The Guardian: - "In Britain, Salah is an emerging phenomenon. In Egypt, his progress has been watched and charted for years. It's difficult to overemphasise his popularity – his face is everywhere. Every coffee shop has a Salah poster. Murals featuring him alongside other icons of Egyptian culture, such as singer Umm Kulthum and novelist Naguib Mahfouz, have appeared around the capital. He beams out from billboards, selling everything from chocolate bars to soft drinks, mobile-phone tariffs and bank accounts. Such is the power of the Mo Salah brand, that when he lent his name to a government-sponsored anti-drugs campaign, they reported a 400% increase in calls to their hotline."
And from The Washington Post: - "Liverpool fans dubbed Salah "the King of Egypt" and created new chants for Salah, including one that declared "If he scores another few, I'll become a Muslim too." In post-Brexit Britain, torn by contentious immigration debates, here was an Egyptian, an observant Muslim who prostrated himself after goals, embraced by the Liverpool faithful in the global religion known worldwide as football, bridging cultural gaps while lighting up scoreboards."
The World Cup needs his remarkable talent. And his character. He is good for the world.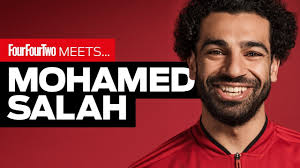 Stunning talent and unifying force for good.