The US should be banned from attending meetings of the WHO (World Health Organisation) since it seems to place corporate interests, war and bullying far ahead of human well-being. This article from the New York Times beggars belief in reporting that the Trump administration has refused to endorse breast feeding. The motion was put forward in Geneva,, and wait for it......"they (the Americans..) turned to threats, according to diplomats and government officials who took part in the discussions. Ecuador, which had planned to introduce the measure, was the first to find itself in the cross hairs. The Americans were blunt: If Ecuador refused to drop the resolution, Washington would unleash punishing trade measures and withdraw crucial military aid."
"We were astonished, appalled and also saddened," said Patti Rundall, the policy director of the British advocacy group Baby Milk Action, who has attended meetings of the assembly, the decision-making body of the World Health Organization, since the late 1980s." It gets worse. "During the deliberations, some American delegates even suggested the United States might cut its contribution to the W.H.O., several negotiators said. Washington is the single largest contributor to the health organization, providing $845 million, or roughly 15 percent of its budget, last year.
'The confrontation was the latest example of the Trump administration siding with corporate interests on numerous public health and environmental issues."
"Elisabeth Sterken, director of the Infant Feeding Action Coalition in Canada, said four decades of research have established the importance of breast milk, which provides essential nutrients as well as hormones and antibodies that protect newborns against infectious disease. A 2016 study in The Lancet found that universal breast-feeding would prevent 800,000 child deaths a year across the globe and yield $300 billion in savings from reduced health care costs and improved economic outcomes for those reared on breast milk. Scientists are loath to carry out double-blind studies that would provide one group with breast milk and another with breast milk substitutes. "This kind of 'evidence-based' research would be ethically and morally unacceptable," Ms. Sterken said.
Abbott Laboratories, the Chicago-based company that is one of the biggest players in the $70 billion baby food market, declined to comment."
"The Americans also sought, unsuccessfully, to thwart the WHO effort aimed at helping poor countries obtain access to lifesaving medicines. Washington, supporting the pharmaceutical industry, has long resisted calls to modify patent laws as a way of increasing drug availability in the developing world, but health advocates say the Trump administration has ratcheted up its opposition to such efforts." The assholes also fought any attempt to put a "health tax" on sugary drinks.
And there you have it. This is what happens when the Orcs get into power.... All the way (home) USA !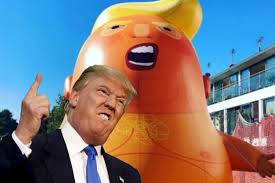 Trump administration officials threaten, intimidate and bully those who disagree with their corporatism